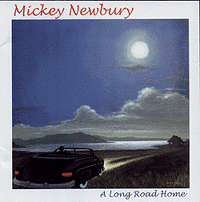 I had thought that when I heard last year's, Stories From the Silver
Moon Cafe, that I was satisfied, full up, push me back from the table and
close my eyes.... But this..... well; it continues all that Stories started
and gives even more..... The concise, aching melodies, so lovingly
surrounded by beautifully crafted arrangements, and layers of sounds that
can actually make you feel like you are soaring above yourself.... The range
of vocal power, that has not lost, but gained as the years have passed, like
a fine scotch taking in the flavor of it's oaken casks..... from a full
throated cry to an aching whisper in the same line..... There comes a time
when experience and life's fullness conspire to meet at that perfect
juncture and an artist is at his peak.... This is one of those times, and my
goodness, do these folks know how to make an album..... Credit must go to
Paula Wolak, Marty Hall, Bob Rosemurgy, Joe Gilchrist and Michael McDonald
for crafting and shaping this wonderful sound....
Mick opens with "In '59". Man alive, this isn't just entertainment, my
friends.... When we're born, unfortunately, we don't get an owner's manual,
do we?.... Every once in a while it's nice when somebody leaves a well in
the valley for us to tarry at as we travel.... This is such a place.... This
man; born in Texas, baptized in England and Tennessee, and now living in the
Northwest, has been down many of the same roads you will travel.... He shows
us that, yes, there is pain and heartache and loneliness and despair, but
that there is also room for dreams and hopes and love and, most importantly,
redemption.... He was so close to the Ring of Fire that he must have burned
his feet, but then he chose to walk away and turn his back forever; but he
never forgot, and now he shares a little of the tale with us....
"So, Que Paso? to the Hotel California.
Adios to the Mason-Dixon Line.
I've a rendezvous with the Lady, East of Eden.
I burned that highway down in '89.
Yes, I burned that highway down in '89."
Unequivocally, one of the great songs of my 50 years on the planet, and I
really mean it; this song ranks with all those songs that when you mention
their name among friends, you all stop for a moment of silence, hear angels
sing, then go on your way..... You know what I mean.... "In '59" is
absolutely life-changing..... [Song exits, but not really, Liza Martin and
Mick continue with various strings through a train sound....]
"I Don't Love You (she said....)" with thunder and beautiful, soothing
rainfall, may just break your heart, the way it did mine.... This is the
songwriter as singer and actor, as the Anthony Hopkins of song, who with One
line of lyric can let you hear the whole years of the relationship in his
voice, as the actor does with his face....
"The Last Question (In the Dead of the Night)" continues with the same
folks, only now He has heard her, finally, and He realizes, deep in the
dark-heart of the night, that he has missed something, and that he will be
missing it for a long time.... "How could I not know you were pretending?
Where did the truth lie in your eyes?"
"Here Comes The Rain, Baby", violin and cello lead to Mick's voice
seamlessly.... Our man, looking back, now, putting on the brave face that
he'll need to continue his life.... "For a while you were mine, But the sun
can't always shine. Here comes the rain, Baby...."
"One More Song of Hearts and Flowers" finds us back on the winding,
lonely highway again.... Lonely hours, yes indeed, but also, "new
beginnings, all the glitter, all the gold...." Mick hits some of those high
notes that chill me, the acoustic guitars tug the heart.... The mandolin
eases in for flavor and we are back to rain....
A lovely string ensemble piece leads us into "Where Are You Darlin'
Tonight" and the Brave Face is lying in bed not feeling anything as much as
wistful desire as the winter unwinds and he realizes, once again, that all
he lies with is memories and walls..... The camera pans up and back; this is
where we leave the story.....
"So Sad" is another Major song, not that they aren't All great, but if
I say that too much, you won't believe me, here in black and white, so I
have to highlight the, um, highlights as I hear them.... Everything about
this song is.... beautifully crafted.... like a butterfly's wing.... The
guitar, the cello, the flute-sound.... But mostly Mickey's voice, the actor
on stage again, selling the story, delivering the lines for all he is worth
until the climax on the So Sad after the fourth verse.... Mick whispers so
sads throughout, haunting, aching, heartbroken.... [melts into waves and
beach sounds]
"Maybe" should be the ballad that you would hear all of the "standards"
singers clamoring to cover if, God Bless Us All, radio and media were the
way they used to be.... This is THE standout "song" on the album; remember
that I said that some of the others were More than songs..... This is the
song that you would play or sing to that young lady or man that you wanted
to feel about you the way you feel about them.... A vocal straight from
heaven, my friends, straight from heaven, Mick, I can't say it any other
way.... A Song for the Ages....
The Centerpiece, The Masterpiece.... After all we have already been
through, is it possible that there is still another well in this valley? "A
Long Road Home" bookends "In '59" as something you will take your hat off
when it comes on for years and years.... It is a man's life; Ulysses'
voyage, Mick on the road of his life, carrying us on his shoulder.... It is
a movie, a book and a roadmap; places lived in and places just passed
through, but all places remembered on the way Home.... and a line I can
barely write, it means so much to me.... " Here's to tomorrow, here's to
today, Here's to whatever I never could say, Here's to the piper; the
bastard's been paid...."
And there is "116 Westfield Street" a look back at the home of a
childhood.... If you have ever done that, gone back and taken a peak, you'll
feel it here again.... " My life is measured in small bits and pieces of
time. Small bits and pieces of life that perfectly rhyme...." The perfect
coda for this long road trip of a voyage that we've been on.... Where the
laughter began, the dreams were dreamt in bedrooms late at night, the
heartaches not yet envisioned, the walls and halls still standing proud,
strong and tall, and everything still in perfect rhyme.....
Our lives, to each of us, are generally private.... Oh, you share a
History with families and friends, but your dead of night, heart of darkness
fears are your own and only you know them, and that's as it should be....
But to hear the soul of another traveler, who has stumbled on some of the
same rocks, turned down some of the same alleys, weathered some of the same
chilling storms; is a wondrous thing to have happen, it is a joyous moment
when that light hits your brain like a diamond-tipped needle and you feel a
familiar feeling coming back to you from outside yourself.....
Hank Beukema
this review was written before Mickey Newbury passed away and is included here as a tribute